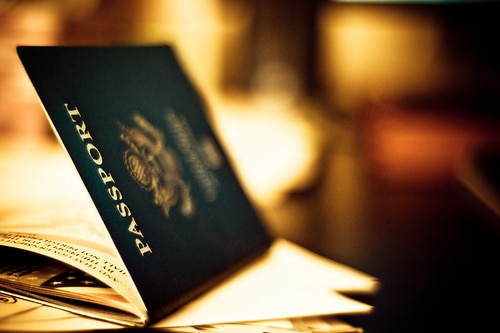 If you're in a hurry to get your U.S. passport for an upcoming overseas trip and don't have time to wait the standard 4 to 6 weeks for a routine passport application, you're in luck. The Bureau of Consular Affairs and U.S. Department of State offer an expedited passport service for those who are traveling within 2 weeks or for those who require a passport with a visa for a foreign country within 4 weeks. The expedited passport service can enable an applicant to get their passport from 1 day to 3 weeks from the day of application, depending on the particular circumstances. The steps for an applicant vary from case to case and depend on what type of passport service is required and how soon the applicant needs to travel. Before starting the process, you will need to look up local passport offices and services to determine where to go. To find the passport office nearest you, get help with an expedited passport application, or to begin the application process online, you can go to
passportoffices.us
Which Form Do You Need?
Depending on your application status, you will first need to determine which form to fill out. There are four different application forms available, the DS-11, DS-82, DS-5504 and the DS-4085. For minors, first time passport applicants and those who are replacing a lost or stolen passport, the DS-11 is the appropriate form. It's important to note that the DS-11 has to be signed in the presence of a passport agent; therefore, after filling out the form, wait to sign it until instructed to do so. If you will be renewing a passport by mail, the appropriate form to use is the DS-82. For those that need to replace a limited validity passport or for those who simply require a data correction, such as a name change, the correct form is the DS-5504. Lastly, form DS-4085 is required for applicants who are looking to merely add visa pages to an existing passport.
Documentation and Fees
For applicants filing a DS-11, it will be necessary to produce documentation demonstrating U.S. citizenship, proof of identity and a photocopy of the original identification document. In addition, the applicant will need to bring a 2x2 inch passport photo. If the passport is for a person under the age of 18, the applying parent must provide proof of their relation to the child. The expedited DS-11 form should be submitted at the application acceptance office in order to receive the passport within 2 to 3 weeks. The form should be submitted as a packet with all other forms and include a check for $170. This payment takes care of a $110 application processing fee and an additional $60 fee required for expedited service. The check and documentation should be submitted in a manila envelope with the word 'expedited' written on the outside. At the time of presentation, it will also be necessary to pay a $25 execution fee to the agent. Be sure to visit the government site to get more information on expedited applications and processing times.
Getting Your Passport Sooner
Whether you need to obtain your passport in less than 2 weeks or you simply want some help with the process, it is important to use an expedited passport service. Using a service to assist you in the expedited application process will not only simplify the process for the applicant but it will also ensure that all documentation will be filed correctly and in a timely manner.